Gov't Employees: April 5th Half-Day Work Suspension
-The government is suspending work in government offices from 12:00 PM on April 5, 2023, to allow employees to observe regular holidays on April 6-7, 2023, and to facilitate their travel across the country.
-Essential government agencies providing basic and health services, disaster response, and other vital services will continue their operations despite the work suspension.
-Private companies and offices have the discretion to decide whether to suspend work for their employees, as the suspension is not mandated for them. This directive takes effect immediately.
To provide government Employees full opportunity to properly observe 06-07 April 2023, regular holidays, and to allow them to travel to and from the different regions in the country, work in government offices on 05 April 2023 is hereby suspended from 12:00 o'clock in the after onwards.
However, those agencies whose functions involve the delivery of basic and health services, preparedness/response to disaster and calamities, and/or and the performance of other vital services shall continue with their operations and render the necessary services.
The suspension of work in private companies and offices is left to the sound discretion of their respective employers.
This Circular shall take effect immediately.
Memorandum Circular No. 16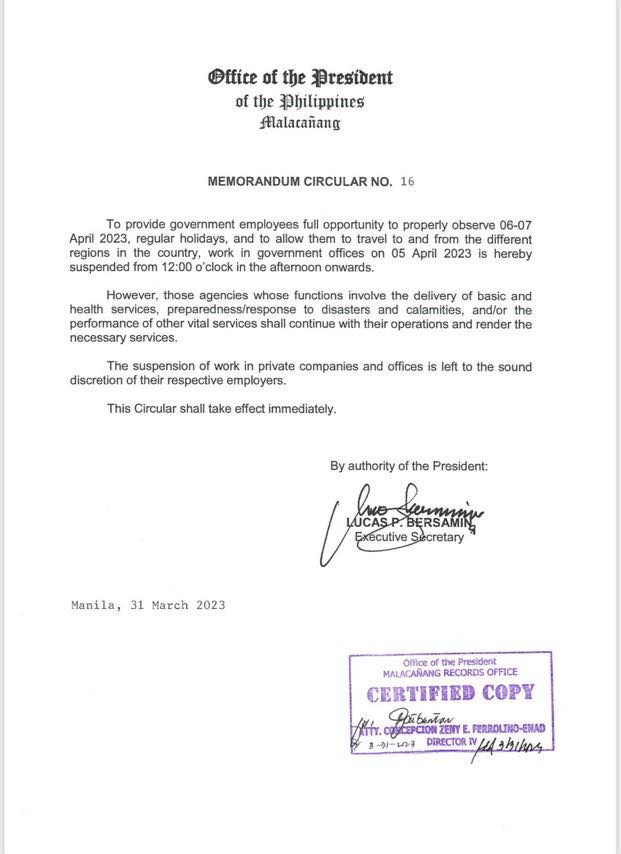 Updated as of March 31, 2023| 7:00 PM
Malacañang emphasized that work suspension on April 5 pertains solely to the Executive department. Cheloy Garafil, the Presidential Communications Office (PCO) Secretary, referred to Memorandum Circular No. 16, which mandates government offices to suspend work starting at noon on April 5.
Garafil stated that the Palace confirmed the memorandum, issued by President Ferdinand R. Marcos Jr., is exclusive to the executive department. The purpose of this work suspension is to grant government employees ample opportunity to observe the regular holidays on April 6-7, 2023, and to facilitate their travel to and from various regions within the nation.
Executive Department of Malacañang
The executive department of Malacañang, or the Philippine executive branch, includes various departments and agencies that report directly to the President of the Philippines. Some of these departments include:
Department of Agriculture (DA)
Department of Budget and Management (DBM)
Department of Education (DepEd)
Department of Energy (DOE)
Department of Environment and Natural Resources (DENR)
Department of Finance (DOF)
Department of Foreign Affairs (DFA)
Department of Health (DOH)
Department of Information and Communications Technology (DICT)
Department of the Interior and Local Government (DILG)
Department of Justice (DOJ)
Department of Labor and Employment (DOLE)
Department of National Defense (DND)
Department of Public Works and Highways (DPWH)
Department of Science and Technology (DOST)
Department of Social Welfare and Development (DSWD)
Department of Tourism (DOT)
Department of Trade and Industry (DTI)
Department of Transportation (DOTr)
Please note that this is not an exhaustive list, and there are other agencies and offices under the executive branch. However, these departments are some of the primary components of the executive department in Malacañang.