Students' Safety in Extreme Climates: DepEd's Class Suspension & Distance Learning
Introduction
The Department of Education (DepEd) has recently reiterated its commitment to ensuring the safety and well-being of learners amidst extreme climate conditions. As students continue to attend in-person classes, it is crucial to prioritize their health and safety during natural disasters, power outages, and other calamities. In line with this commitment, DepEd has reminded schools of the existing guidelines and regulations that govern class cancellations and the implementation of modular distance learning.
DepEd Order No. 037, s. 2022: Guidelines on Class Cancellation and Suspension
DepEd Order No. 037, s. 2022, titled "Guidelines on the Cancellation or Suspension of Classes and Work in Schools in the Event of Natural Disaster, Power Outage/Power Interruptions, and Other Calamities," serves as the guiding policy for schools in the event of unfavorable conditions. Under this order, modular distance learning is implemented as an alternative method to ensure learning continuity and that learning competencies and objectives are met when classes are canceled or suspended.
School Heads' Authority and Responsibility
In light of the announcement made by the Philippines Atmospheric, Geophysical, and Astronomical Services Administration (PAGASA) last March 21, 2023, which marked the beginning of the warm and dry season, the DepEd Office has reminded School Heads of their authority and responsibility. Per Rule VI, Section 6.1 of DepEd Order No. 01, s. 2003, or the Implementing Rules and Regulations of Republic Act No. 9155, School Heads are authorized to suspend in-person classes and implement modular distance learning when unfavorable weather and environmental conditions, such as extremely high temperatures, may considerably affect classroom learning and put the learners' health and well-being at risk.
Role of School Division Offices and Regional Directors
School Division Offices, under the supervision of the School Division Superintendent, are tasked with monitoring schools implementing modular distance learning during class suspensions. These offices are also required to submit a report on the said implementation to the Regional Director. This ensures that appropriate measures are taken and that school authorities are held accountable for their decisions.
Reiteration of Implementation of Modular Distance Learning as Provided in DepEd Order No. 037, s. 2022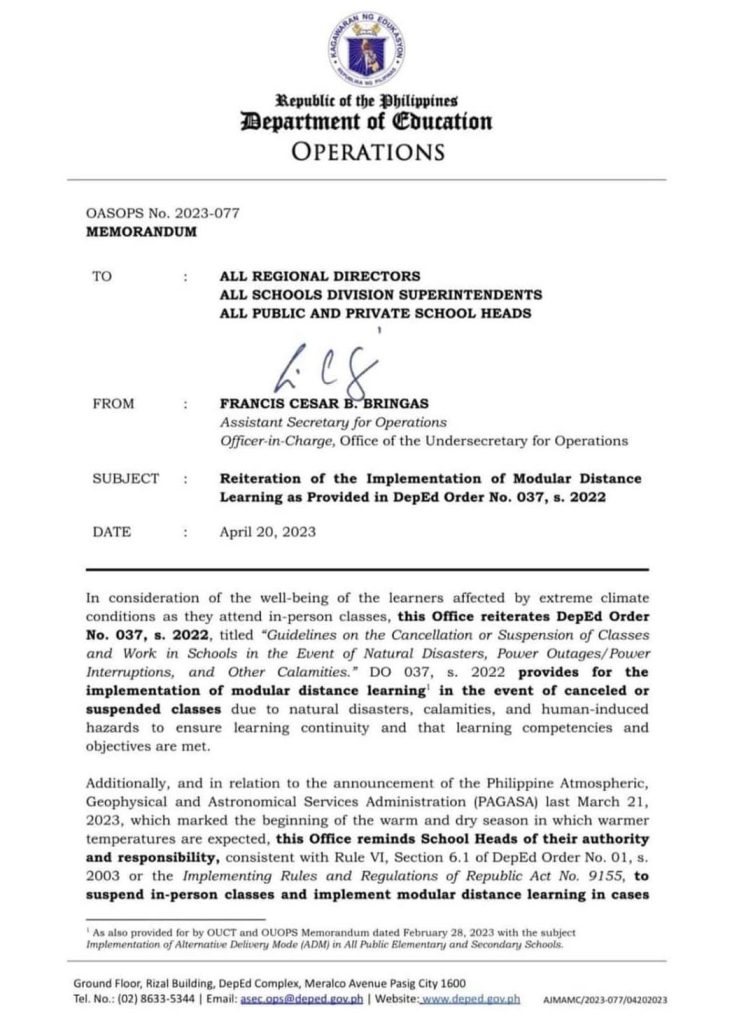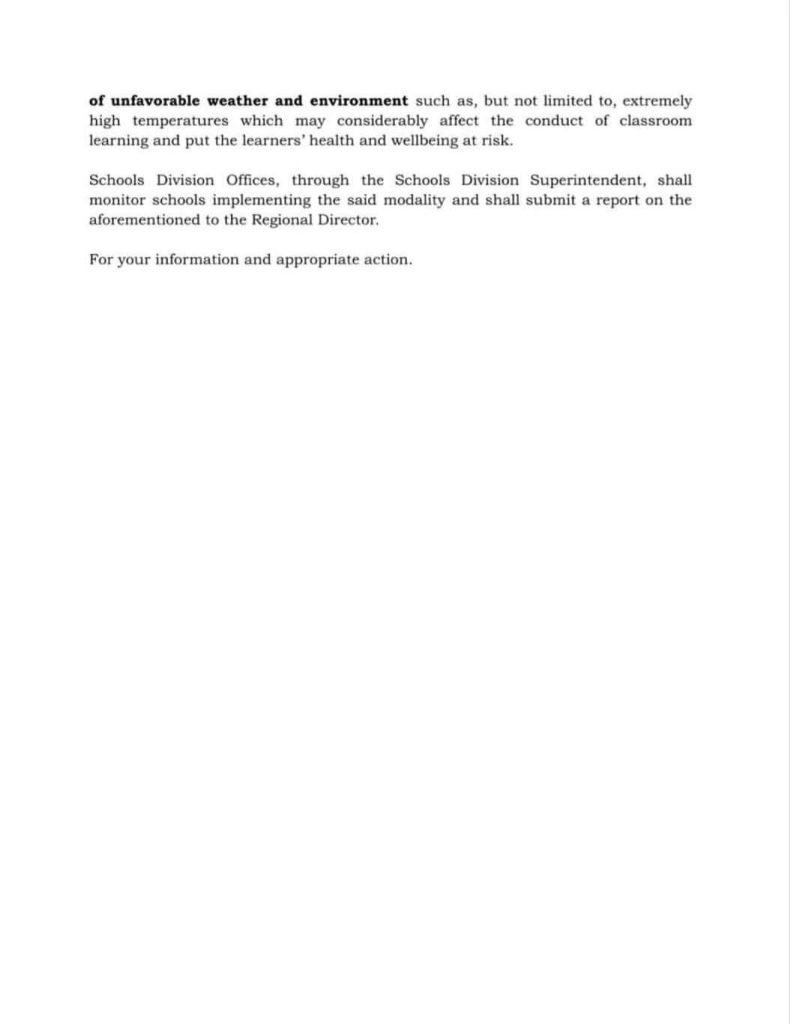 Conclusion
The DepEd's reiteration of the guidelines on class cancellation and the implementation of modular distance learning demonstrates its dedication to safeguarding the well-being of learners in the face of extreme climate conditions. By empowering School Heads and ensuring proper monitoring and reporting, the Department of Education aims to maintain a safe and conducive learning environment for all students, even during challenging times.