You are an adult Filipino and you want to apply for a work, you need a police clearance. It is a rite of passage and a proof of the time you have without breaking the law. In the Philippines, getting a police clearance is one important step. It works out as strong evidence of character.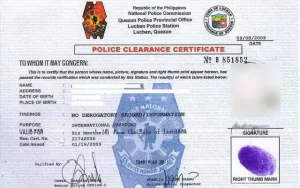 WHAT IS A POLICE CLEARANCE?
A Police clearance is an important government certificate. It indicates that the holder is free from any criminal records. Government agencies and employers request this document from their applicants. It is to ensure that the applicant has no criminal record.
Philippine Police Clearance (PCC) has a similar function to the NBI Clearance. Their difference is that the PCC can only ensure the no criminal records from a certain area. NBI Clearance will ensure the no criminal records all over the Philippines. A police clearance is valid for 6 months from the date of issue.
WHY DO I NEED A POLICE CLEARANCE IN THE PHILIPPINES?
If you are a Filipino and you are curious why you need to get this document, here are the answers:
This document is a needed if you are trying to leave the country for work, study or immigration. Other agencies ask for this document before they issue other legal documents. These documents include IDs, passport or even driver's license.
A police clearance will certify that there are no criminal or record against you. It also proves that you have no pending court cases related to any felony or penal offense. It will clear you from any criminal allegations. It certifies that you have no pending warrant on your name and/or record from any court in the country.
This document is also a need when you apply for:
annual civil service exam
firearms registration
credit card application
applying for various government-issued documents like birth certificate
For police officers, this document will help them arrest fugitives who were hiding. Their centralized clearance system will detect people who escaped from law. There are instances when these fugitives resurface and apply for a police clearance. This will happen if those fugitives seem to forget about their crime and planned to work.
REQUIREMENTS FOR POLICE CLEARANCE
Remember that a police clearance form is available at the police station. Some even at the municipal office or in the city governments. You can ask your local police offices or city hall for the online application if there is. There are offices that are strict in their "dress code". Wearing of sleeveless clothing is not allowed.
Here are the general requirements when applying fore the police clearance:
Personal appearance
Police clearance application form
Community tax certificate (cedula) and/or Barangay clearance – Police clearance fee
2×2 ID picture (not applicable to all areas) – Birth certificate/Baptismal or any government-issued valid ID
Other possible requirements (not applicable to all areas)
Police Clearance Fees
Police clearance certificate usually costs Php 100. Police clearance ID card costs more (Php 150 or higher) due to the materials used.
You need to prepare at least Php300.00 for both if they will release it. It usually takes 15 minutes to 1 hour for the entire process or the longest time is half day. The LGU where the police office is will determine the fee.
Here's an example of police clearance price table from Malabon City:
Local Employment – Php 100.00
For Reference – Php 100.00
Travel Abroad – Php 100.00
NSO Requirement – Php 100.00
COMELEC Requirement – Php 100.00
SSS Requirement– Php 100.00
PNP Requirement – Php 100.00
AFP Requirement – Php 100.00
For Adoption – Php 100.00
For Rehabilitation – Php 100.00
For Naturalization – Php 300.00
Firearms Requirement– Php 500.00
HOW TO GET A POLICE CLEARANCE?
PROCEDURES TO GET A POLICE CLEARANCE (Walk-in Application)
Bring all the requirements to your local municipal office/city hall.
Fill out the police clearance form.
Pay the police clearance fee at the treasurer's office/treasury department.
Wait for your turn for the biometrics and picture taking.
Pick-up your police clearance.
As a strategy to decongest the police camps in the country, the PNP launched a website for online access. This strategy will help the people transact in a convenient way without any hassle. Here is how to do the online police clearance application:
POLICE CLEARANCE ONLINE APPLICATION PROCEDURES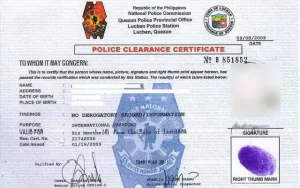 Access the NPCS Website To Register
First-time applicants should register with the National Police Clearance System website. On the NPCS home page, click Register. A pop-up box will show up on your screen.
Fill Out the "New Applicant Registration" Form
Create an account by filling out "New Applicant Registration" form. Fill-out your email address and password, complete name, gender, and birth date. Tick the box for "Terms and Conditions" and then click Register. A warning box will then remind you to check the information you've provided. If you're sure about it, click Save. Otherwise, click Cancel.
Log In to Your Account
Sign in using the same email address and password you provided during registration.
Click on "Edit Profile"
Click on Edit Profile inside your NPCS account.
Fill Out the "Applicant Information" Form
Supply information to all the required sections in your Applicant Profile. Those entry that are not yet filled like:
Nationality
Birth Place
Civil Status,
Address,
Mobile/Telephone Number,
Height,
Weight,
Complexion,
Educational Attainment, and
Family Background.
For PWD applicants, mark the checkbox "Please check if you are a PWD" and provide your PWD ID number.
For fresh graduates, mark the checkbox that says, "Please check if you are a First Time Job Seeker. This is under RA 11261 – First Time Job Seeker Assistance Act. This will help waive the clearance fee. The law now enables first-time jobseekers to avail of government-issued documents for free. This is of course provided they can present a Barangay Certificate as proof.
Take note that qualified applicants can only avail of free clearance ONCE.
Review all the information you've provided. Check for any missing data or spelling mistakes. Whatever information you provide, it will show on the printed police clearance. Any erroneous entry will be due to the applicant's fault and not the PNP's.
Once you're done, click Save Profile.
Click the "Clearance Application" Button
You must select this to set an appointment with the nearest police station online.
Select your preferred Police Station from the drop-down list provided. Choose your preferred date and either AM or PM schedule from the list of available dates. Click Next.
Select Payment Option
Select "LandBank of the Phils." under Payment Options. It will then show the police clearance fee of Php 150 that you need to pay to secure your appointment. For first-time jobseekers, it will be free at the police station on the day of your appointment.
Click Next.
Review the Notes/Reminders and Pay the Police Clearance Fee
The following page contains your transaction summary. This will include the following:
your chosen police station
appointment scheduling,
payment option, and instructions on what to do next.
After reviewing the information, click Save Appointment.
Save or note the reference number displayed on the page.
Pay the police clearance fee by clicking the Click here to Pay button on the bottom right corner of the page. Take note that over-the-counter payment at the police station is not allowed.
It will direct to the LandBank of the Philippines ePayment portal. Select either LandBank or Bancnet. Enter your account number and PIN to complete the transaction. You can even pay over the coubter at the nearest 7-Eleven stores. You can also pay the fee via GCash.
Complete the payment at least two banking days before your appointment date. Failure to pay will result to cancellation of your transaction.
Proceed to Your Chosen Police Station for Photo Capture and Biometrics
Show your Official Receipt, 2 valid IDs and a copy of your payment reference number. After that they will guide you to the photo capture area. Then fingerprints and digital signature will follow. Afterwards, your application will go through a verification process.
Wait for the release of your Police Clearance
You can have your police clearance on the same day of application. Depending on the police station, getting a police clearance may take 15 minutes or more. Once the verification process is complete, you can wait for the release.
The process is quite simple and fast and hassle-free.
FAQs
What will happen if I missed an appointment?
Failure to show up on your appointment date is still okay. You have 15 days to, go to your chosen Police Station to claim your police clearance. Beyond this 15-day grace period, you will lose your payment. You will need to apply again after that.
Can I edit or change erroneous personal data on my police clearance once it's already printed?
You need to apply again online to make changes. Again, you need to secure another appointment, pay the fee and go over same process. To avoid this, make sure you review everything first.
Does police clearance applications only accommodated during weekdays?
As the online appointment system will show you, no slots are available for Saturday or Sunday. Applicants can choose from either AM or PM schedules on a weekday, Monday to Friday.
So, it's better to set up an appointment in advance so you can choose a schedule. Make sure it falls on a weekday, or during your rest day.
Can I renew my police clearance once it expires?
Unlike NBI clearance, police clearance is not renewable. You must apply for a new one after it expires. Police clearances in the Philippines are only valid for 6 months from release.
I'm applying for work/immigration abroad. How can I authenticate my police clearance with DFA red ribbon?
You need to get an original copy of the clearance issued by the PNP. Follow the updated procedure to Apostillize it.
FINAL SAY
All you need to know about police clearance is at hand so you better hurry and set your appointment now. This document is one of the most important document a Filipino citizen must have. – Avril | Helpline PH