What is
NBI Clearance
?
It is a document issued by the National Bureau of Investigation. It certifies that an individual has no derogatory criminal record.
This clearance is a must for certain transactions, such as applying for a job or opening a bank account. Other purposes of this clearance are for travel and immigration, business, CSC exam.
What are the benefits of getting an
NBI Clearance
?
1. Ensures a certain applicant has no criminal record.
2. It will make you confident enough in business proposals or dealings.
3. It shows your trustworthiness as law-abiding citizen of the country.
4. For employers, you are rest assured that your applicants do have good standing.
5. There is no need for you to present your barangay clearance if you have an NBI clearance at hand.
What are the requirements in getting
NBI Clearance
in the Philippines?
An NBI clearance is a document that certifies a person has no criminal record. These are the needed requirements for getting the clearance in the Philippines:
1) The applicant must be a Filipino citizen.
2) The applicant must be at least 18 years of age.
3) The applicant must have a valid government-issued ID.
Passport

National ID

Driver's license

PhilSys

Postal ID
How much are the fees in getting
NBI clearance
?
An applicant must pay:
1. Php 130.00 NBI Clearance Fee
2. Php 25.00 for the system transaction fee
What is NBI Clearance Online?
Getting an NBI clearance in the Philippines is such a very time-consuming work. More often people get confuse upon the steps they need to have on hand. It is better to get the clearance without any hassles. To avoid the hassles and avoid delays, you can opt to getting it online. In this manner, you will only go through the simple few steps without any problems. 
How to get NBI Clearance Online?
Here are the steps you need to follow:
1. Open the NBI Clearance Online Services website
You will need to visit the NBI Clearance Online Services website. You must read the Data Privacy Statement and click "I Agree." All other pop-ups are self-explanatory. 
2. Create your own account
For first time job-seekers, click the yellow box to proceed with your application.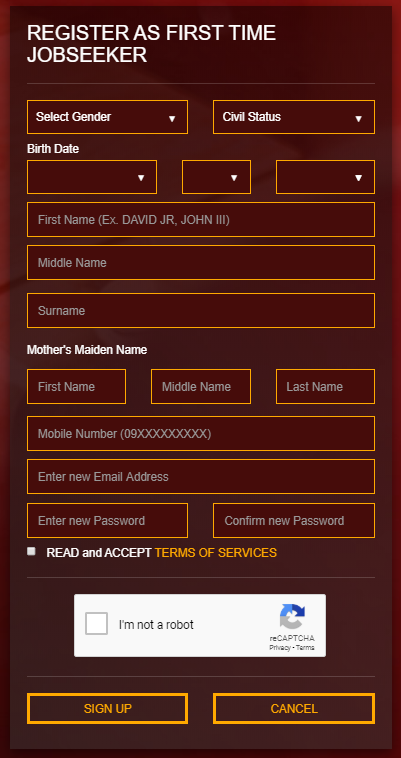 If not, proceed to filling out the registration form.
There is a question that says "DO YOU HAVE AN OLD NBI CLEARANCE ISSUED FROM 2014 TO PRESENT? you tick "NO". Avoid using special characters in filling out since the system won't accept those. You need to inform any personnel if there is a hyphen or period so they can include it in your NBI clearance. Remember that there is only one email for one user while creating your account.
3. Enter the One-time Password
You will then receive a one-time password via text message after filling out the form. If you did not receive one, click "RESEND ONE-TIME PASSWORD (OTP)" to generate another OTP. Input in the box and click "SUBMIT".
4. Log in to your account
Sign in using the email address and password you entered during your registration.
5. Fill out the application form
On the Application Information page, you will need to enter your personal details. Remember to make sure not to leave the boxes with a red asterisk blank. They are important information that should not be blank.
6. Select "Apply for Clearance"
Click "Apply for Clearance" button after completing the form. You can find it on the upper right corner of the page.
7. Provide the type of ID you will bring on the day of your appointment
A pop-up box will appear on the screen. You need to provide the type of identification you will bring for verification. Bring all your valid IDs on the day of your appointment. You will only need at least two of it

8. Choose the NBI branch of your preference
Pick the nearest NBI branch you have in your place.
9. Set an appointment schedule
You can choose your preferred appointment date and time (AM or PM). Vacant slots have shades of blue so you can choose according to your availability. Make sure that you are available on that day you set since there is no rescheduling of dates.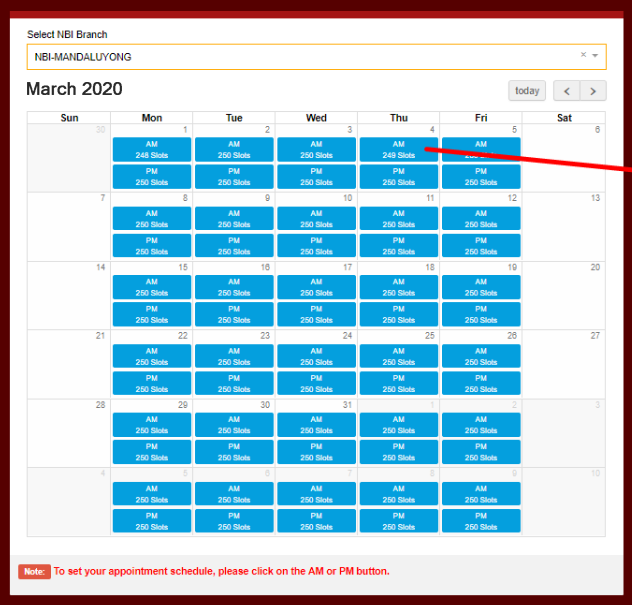 10. Choose your payment option
There are many available payment methods such as: 
Banks (over the counter)

Online bank

Bayad center outlets

Bayad center mobile

 

ECPay

7-Eleven Visa/Mastercard

GCash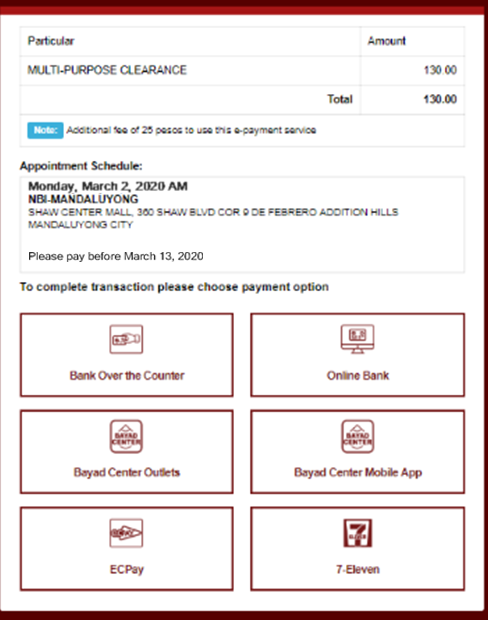 11. Pay the NBI Clearance fee 
Proceed to payment depending on the payment method you used. Take a screenshot of your reference number since you will need this when paying the fee.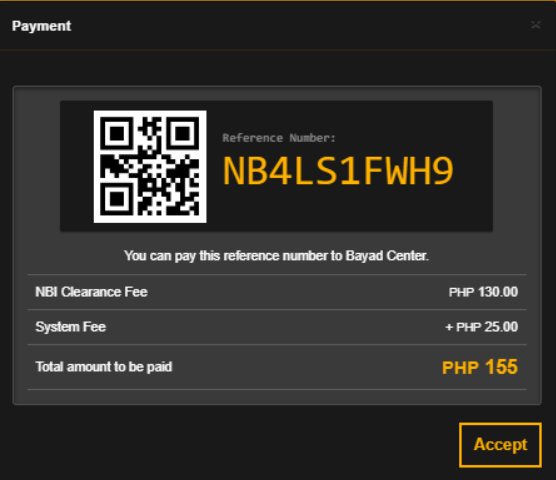 12. Go to the nearest NBI center
Proceed to your chosen NBI clearance center on the day of your appointment. Make sure you bring with you all the documents/things needed. Go straight to the encoding section for your biometrics and photo. 
13. Claim your NBI Clearance
You can bring with you the] clearance in a few minutes as long as your name is not "HIT". Otherwise, you will have to return after a few days as they will need to check back on your application. If your name is on "HIT" it means another individual has a name, the same with yours. NBI should make sure you are different individuals to avoid future problems.
How to Verify whether your
NBI Clearance
is FAKE or VALID?
Due to the high demand of this clearance, people learned how to fake it for money. Scammers spread all throughout the side streets of Recto. The place where all fake documents are present. You need to at least verify for yourself whether your clearance is fake or valid.
You need to verify your clearance for security purposes. In an instance that your employer will ask you for your clearance, you will be safe. Most employers will ask for the authenticity of your document.
On the other side of the coin if you are the employer, you need to make sure that you are hiring a decent employee. You need to verify for yourself the authenticity of your applicants. Make sure you don't hire criminals in your own abode. You need not risk the life of your other employees or members of the family.
Verification Process
1. To verify if an NBI Clearance is authentic and valid, you need the hard copy of the clearance.
2. Proceed to their official website. Find NBI CLEARANCE ONLINE VERIFICATION.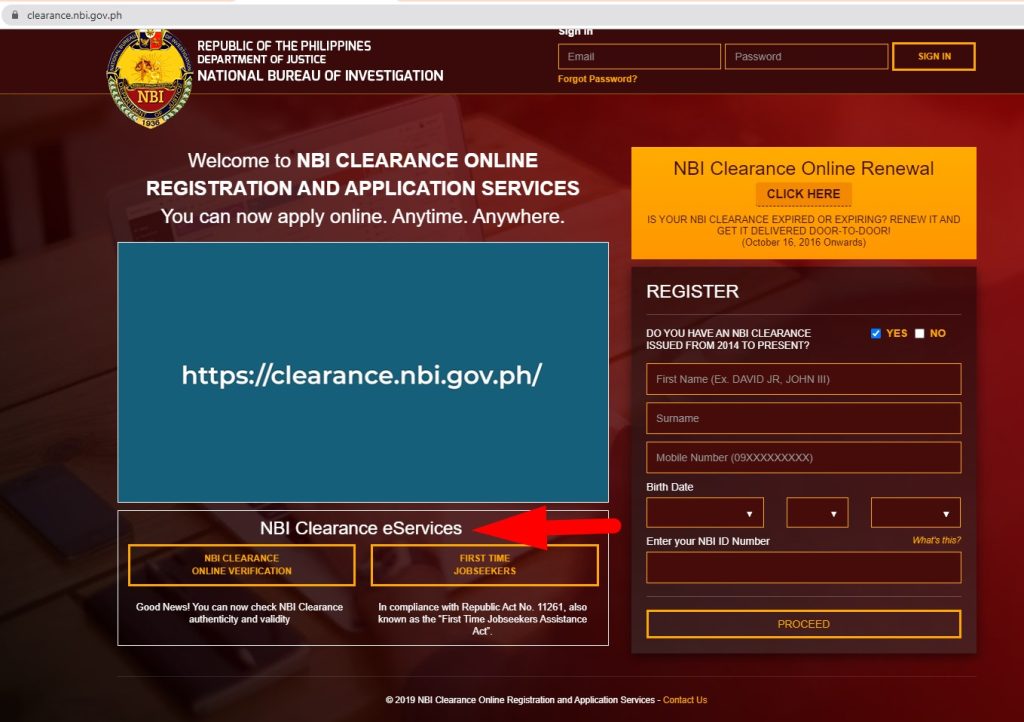 3. Click the button to proceed with the verification.

4. There are two options in verifying: manual entering of the NBI ID number or scanning the QR code. You can find the code on the hard copy of the clearance.

5. Click verify button and see if it is authentic or fake.
An image of the complete name of the owner of the clearance will show. If it shows, then it is VALID.
If the clearance is fake, it will prompt you saying these messages:
"The system cannot find the given NBI ID Number"
Now, you know the importance of verifying the clearance. This will save you and your business in the future. It is better to be safe than sorry. As an employer, it is best to secure your employees very well on their honesty. 
Important points to remember when applying for an NBI clearance online:
NBI will only entertain your clearance request if you have made a prior valid online appointment.

Physical appearance at the NBI clearance center is mandatory to further process your application in all cases except for foreign applications.

There is no age limit for the NBI clearance application for any Filipino.

President Rodrigo Duterte approved the First Time Job Seekers Assistance Act in April of 2019. This act made it easier for fresh graduates, especially first-time job seekers, to obtain their NBI clearance free of cost.

The updated NBI has been declared a multi-purpose one. This eliminates the concept of the green NBI clearance, which was used for foreign traveling and employment purposes. The new one is universally valid for all local and foreign purposes.

Some shady individuals might approach you near the NBI clearance center, offering to get your work done faster in exchange for money. They usually offer to provide "priority numbers" by saying they have connections inside the NBI.
How to renew your NBI Clearance?
There is no need to go to an NBI office to renew your clearance.
1. Just go to https://clearance.nbi.gov.ph and click the NBI Clearance Online Renewal button.
2. Fill in the necessary details.
3. Pay online and you are done!
Your NBI Clearance will be ready in no time for pick up at your preferred NBI office or it can be delivered to your home.
Conclusion
Getting an NBI clearance in the Philippines is not anymore, a time-consuming job. You only need to click and tick boxes then proceed to payment as instructed in the steps. This ultimate step by step guide will help you through your transaction. Good luck!