PBEd Asserts 'Mass Promotion' Impacts Learning Quality Negatively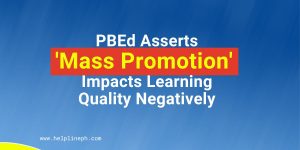 The Philippine Business for Education (PBEd) recently conducted a study that brought to light a critical issue in the education system in the Philippines – the practice of mass promotion. The study revealed that students are not genuinely assimilating knowledge but merely advancing through the scholastic system due to mass promotion. This 'unspoken' policy of broad-scale advancement, or mass promotion, is linked to substandard learning outcomes.
Justine Raagas, the PBEd Executive Director, stated during the 2023 State of Education Report launch, "Without a robust educational foundation, our global labor force competitiveness diminishes. It hinders innovation, productivity, and economic growth, limiting our potential for progress and prosperity."
The report's findings were based on consultations with over 300 national stakeholders, including educators, school administrators, government officials, parents, students, and industry experts. One of the significant contributors to poor learning outcomes, as unanimously agreed by stakeholders, was the prevalent practice of mass promotion.
Raagas pointed out a common misinterpretation of the "No child left behind" principle, which has unfortunately led to mass promotion of students to subsequent grade levels, regardless of their skills. This practice, despite not being an official Department of Education (DepEd) policy, is deeply ingrained in the country's educational system.
This misinterpretation indirectly pressures teachers to promote their students to the next grade level, regardless of grades or competencies, leading to mass promotion. Students are often given additional work to bridge the learning gap, and they are promoted once this work is completed.
This systemic issue of mass promotion, which has been ongoing for an extended period, not only results in failure to master basic fundamentals such as literacy and numeracy but also leads to behavioral issues as students lack essential values like diligence, resilience, teamwork, and respect.
Assistant Secretary Alma Ruby Torio, representing DepEd, clarified that the department does not endorse mass promotion, as they follow a "performance-based grading system". According to DepEd Order No. 8, s. 2015, the passing grade for all learning areas should be 75.
The Department is organizing learning camps to support learners who need enrichment activities, remedial, and intervention strategies, without the negative label of 'flunkers'. Education expert Therese Bustos also highlighted the necessity of providing support for failing students rather than simply retaining them in the same grade.
Meanwhile, Raagas stressed that accurate evaluation of student performance is obstructed by a lack of proper assessments. The PBEd report urged the implementation of effective evaluation mechanisms that counteract mass promotion, ensuring students acquire necessary skills for the next grade level and future employment.
PBEd President Chito Salazar proposed the establishment of an independent assessment agency, noting the current issue of DepEd's self-assessment. Though the matter of mass promotion was raised at the Second Congressional Commission on Education, it remained unresolved due to a lack of official policy documentation.