K-10 Curriculum Revolution: Uncover Exciting Updates in the Revised Learning Guide!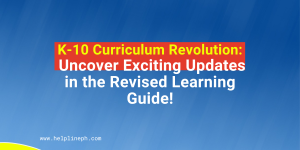 -The Department of Education (DepEd) has released a revised curriculum guide for Kindergarten to Grade 10 (K-10) to address the challenges identified in the previous curriculum and improve the academic performance of Filipino learners.
– The updated K-12 curriculum includes new features such as focusing on "Big Ideas" for foundational skills development, a redesigned Kindergarten curriculum, and the introduction of SiKaP as a new learning area. Additionally, it emphasizes values formation and character development.
-The proposed curriculum guide covers various learning areas and introduces some controversial topics in Grade 10, such as the West Philippine Sea and human rights violations. It also proposes early teaching of sexual and reproductive health and gender-related topics.
The Department of Education (DepEd) recently unveiled an updated K-10 curriculum guide following a comprehensive review of the previous curriculum. DepEd Spokesperson Michael Poa announced that the revised K-10 curriculum guide is open for comments until May 3.
Although the K-12 Basic Education Curriculum was regarded as one of the most significant educational reforms in the country, DepEd acknowledged that the K-10 curriculum still faced challenges. National and international standardized assessments revealed no improvement in Filipino learners' academic performance, prompting the department to re-evaluate and enhance the K-10 curriculum.
System assessments exposed various issues in English, Filipino, Mother Tongue, and Math, which necessitated further K-10 curriculum improvements. The K-12 curriculum review, initiated by former Education Secretary Leonor Briones, found that the current K-10 curriculum had numerous essential learning competencies, indicating its relevance. However, it was suggested that the curriculum be further streamlined.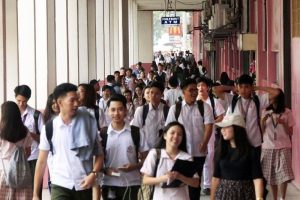 The revised K-10 curriculum includes new features, such as focusing on "Big Ideas" to emphasize the development and mastery of foundational skills and competencies. A redesigned Kindergarten curriculum aims to produce well-rounded, literate children equipped with 21st-century skills. Additionally, the new K-10 curriculum redefines the interplay among languages in Mother Tongue-Based Multilingual Education (MTB-MLE) and highlights the engineering design process.
SiKaP (Sibika, Kultura, Kasaysayan, at Kagalingang Pangkatawan) is introduced as a new learning area, intending to help learners develop personal and cultural consciousness as active and creative community members. The updated K-10 curriculum also emphasizes values formation to achieve a balance between competence and character.
The proposed K-10 curriculum guide covers various learning areas, such as Kindergarten, Araling Panlipunan (AP), English, Edukasyong Pantahanan at Pangkabuhayan/Technology and Livelihood Education (EPP-TLE), Filipino, Music, Arts, Physical Education and Health (MAPEH), Mathematics, Science, and Good Manners and Right Conduct (GMRC). Some controversial topics, such as the West Philippine Sea, human rights violations, red-tagging, and extrajudicial killings, are planned to be introduced in Grade 10.
The draft K-10 curriculum also proposes teaching sexual and reproductive health as early as Grade 4 and discussing gender-related topics like same-sex unions, same-sex marriage, and gender-based discrimination in Grade 10 AP. Additionally, the removal of a separate Mother Tongue subject at the primary level and early teaching of English for Grade 1 pupils are proposed.
DepEd is currently reviewing the curriculum for Grades 11 and 12 of the Senior High School (SHS) Program. The revised K-12 curriculum aims to be more responsive to the nation's aspirations and develop lifelong learners with 21st-century skills, discipline, and patriotism.