Guidelines on Preparation and Checking of Forms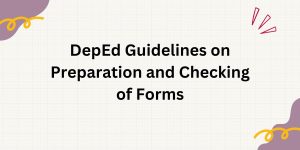 The Department of Education (DepEd) in the Philippines has established comprehensive guidelines on the preparation and checking of school forms. These guidelines, outlined in DepEd Order No. 11, s. 2018, are designed to ensure the accuracy, reliability, and efficiency of data management in schools.
Understanding the Documents and Forms
DepEd uses a series of forms, known as School Forms (SF), to keep track of a student's academic journey. These forms range from SF1 to SF10, each serving a different purpose in tracking students' records and academic achievements. For instance, SF1 is the School Register, which contains the list of learners enrolled in a school for a particular school year. SF4, on the other hand, provides a summary of learners' daily attendance.
The Process of Preparation and Checking of Forms
The process of preparation and checking of forms involves the use of streamlined and electronic school forms available for download from the Learner Information System (LIS). These forms are designed to lessen the burden on teachers and ensure the accuracy and reliability of data. The forms include the School Register (SF1), Daily Attendance Report (SF2), Books Issued and Returned (SF3), Monthly Learner's Movement and Attendance (SF4), Report on Promotion and Level of Proficiency (SF5), Summarized Report on Promotion and Level of Proficiency (SF6), and Learner's Permanent Academic Record (SF10).
The Checking Process
The checking process is carried out by designated personnel known as the Division Checking Committee (DCC) and the School Checking Committee (SCC). These committees are responsible for reviewing learner profiles and enrollment eligibility using reliable references such as birth certificates, permanent academic records, or certifications. The checking process also involves ensuring that the data in the forms aligns with the official records and that there are no discrepancies.
The Validation Process
The validation process is crucial to ensure the accuracy and reliability of the data recorded in the school forms. Electronic school forms pre-loaded with learner information cannot be edited manually outside the Learner Information System (LIS). Only LIS-generated forms shall be presented during checking. Supporting documents required for entry grade levels (Kinder, Grade 1, 7, & 11), transfer/move-ins, accelerated/DepEd assessment passers must be validated by the DCC.
Focus Areas for Checking and Validation
The focus areas for the Curriculum Implementation Division (CID) include credentials consistency and adherence to policies on promotion, retention, honors, acceleration. On the other hand, the focus areas for the School Governance and Operations Division (SGOD) include validation of the cumulative number of leavers and learners who transferred out, breakdown of enrollment by grade level, promotions, and retentions.
Conclusion
The preparation, checking, and validation of school forms and reports are crucial aspects of DepEd's data management system. By following the guidelines set out in DepEd Order No. 11, s. 2018, schools can ensure the accuracy and reliability of their data, thereby improving the overall quality of education.
Download: Latest DepEd School Forms Template (SF1 -SF10)