Performance-Based Bonus Delays: A Deep Dive into DepEd Teachers' PBB
Introduction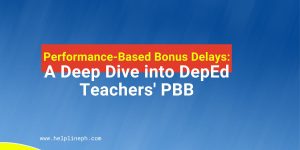 The Performance-Based Bonus (PBB) is an essential incentive for DepEd teachers, as it not only serves to recognize their hard work, but also plays a significant role in motivating them to excel in their profession. However, the PBB system has been plagued by delays in recent years, with teachers often receiving their bonuses one or two years after the intended release date. This article examines the PBB system's history and the challenges it has faced in delivering these bonuses in a timely manner.
A Brief Overview of PBB for DepEd Teachers
The PBB is a merit-based incentive program designed to reward outstanding performance by DepEd employees, including teachers. However, Performance-Based Bonus Delays have become a significant concern. Despite these delays, the program aims to encourage professional growth, promote a culture of excellence, and help retain top-performing staff. The PBB is awarded to employees based on the accomplishment of specific goals and targets set for their respective departments.
PBB Timeline
A History of Delays Unfortunately, DepEd employees have experienced consistent delays in the release of their PBBs, often waiting one or two years to receive their bonuses. The following timeline highlights the extent of these delays:
PBB 2013 – released in January 2015
PBB 2014 – released in September 2015
PBB 2015 – released in December 2016
PBB 2016 – released in March 2018
PBB 2017 – released in February 2019
PBB 2018 – released in April 2020
PBB 2019 – released in June 2021
PBB 2020 – released in February 2022
PBB 2021 – still processing as of April 19, 2023
Factors Contributing to Delays
There are several factors that contribute to the delayed release of PBBs for DepEd teachers. These include:
Bureaucratic red tape: A complicated and multi-layered approval process often causes significant delays in the release of PBBs.
Inefficient performance evaluation system: The current performance evaluation system for DepEd employees is time-consuming and inconsistent, which further slows down the processing and release of PBBs.
Insufficient funds: Budget constraints and the prioritization of other expenses can lead to the delayed allocation of funds for the PBB program.
Lack of transparency: Limited information and communication about the status of PBBs often leave teachers in the dark about when they can expect their bonuses.
Moving Forward
To address the ongoing Performance-Based Bonus Delays, the DepEd and other stakeholders must collaborate to streamline the approval process, refine the performance evaluation system, allocate adequate funds for the PBB program, and increase transparency and communication. By tackling these issues, the PBB system can more effectively recognize and reward the hard work of DepEd teachers, ultimately leading to an improved quality of education in the country.
Conclusion
While the PBB system is vital for acknowledging and inspiring DepEd teachers, the persistent Performance-Based Bonus Delays have weakened its impact. It is crucial for relevant stakeholders to tackle these challenges to ensure that teachers receive their well-deserved incentives promptly, fostering a culture of excellence and commitment within the DepEd.