The Impact of No Homework Policy: A Comprehensive Analysis
Introduction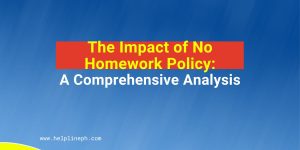 The No Homework Policy, a revolutionary concept in the education sector, has been a subject of intense debate among educators, parents, and students alike. This policy, which aims to eliminate or significantly reduce homework, has been met with both applause and criticism. This article delves into the impact of the No Homework Policy, drawing from personal experiences of teachers and students who have been significantly affected by it.
The Traditional Role of Homework
Historically, homework has been viewed as an essential tool for reinforcing what students learn during the school day, preparing for upcoming lessons, and providing parents with a window into their children's academic progress. However, critics argue that homework often leads to stress and burnout, infringes on students' personal time, and exacerbates social inequalities.
The Student Perspective
From a student's perspective, the No Homework Policy has had a profound impact. Many students have reported feeling less stressed and more able to balance their academic responsibilities with extracurricular activities and family time. However, some students feel that the policy has made it more difficult for them to retain information and fully understand the material taught in class.
The Teacher Perspective
Teachers, too, have had mixed reactions to the No Homework Policy. Some teachers feel that the policy allows them to focus more on in-class instruction and less on grading homework. However, others worry that without homework, students may not be getting enough practice with new concepts.
The Impact on Learning
Research has shown that homework can play a significant role in reinforcing the concepts taught in class. However, excessive homework can lead to burnout and stress, negatively impacting a student's ability to learn and retain information. The No Homework Policy aims to strike a balance, reducing the burden of homework while ensuring that students still have opportunities to practice and reinforce what they've learned.
The Impact on Family Time
One of the significant benefits of the No Homework Policy is the potential for increased family time. With less homework to complete, students have more time to spend with their families, engage in hobbies, and simply relax and recharge. This can lead to improved mental health and overall well-being for students.
Effects on Educators
Educators have also experienced a variety of reactions to the No Homework Policy. For some, the policy has allowed them to shift their focus towards more in-depth in-class instruction, reducing the time spent on grading homework. However, there are concerns among others that the absence of homework may limit students' opportunities to practice new concepts.
Influence on the Educational Landscape
The No Homework Policy has also left its mark on the broader educational landscape. It has challenged conventional norms and prompted educators to reconsider their teaching methodologies. While some educational institutions have welcomed the policy, others have shown resistance, resulting in a diverse array of practices across different schools and districts.
The Impact on Parent-Teacher Relationships
The No Homework Policy has also affected the relationships between parents and teachers. With less homework to monitor, parents may feel less involved in their child's education. On the other hand, some parents have welcomed the policy, appreciating the reduced stress and increased family time it provides.
Implications for Student Success
The debate around the No Homework Policy's influence on student success is ongoing. Some studies indicate that homework can boost academic outcomes, particularly for older students. Conversely, other research highlights that an overabundance of homework can lead to student burnout and disengagement, potentially negatively affecting academic success in the long term.
Final Thoughts
In wrapping up, the No Homework Policy is a complex issue with a broad range of implications. It's evident that this policy has instigated significant changes in the experiences of both educators and learners. As we continue to navigate this conversation, it's crucial to consider these personal experiences and aim for a balanced approach that encourages learning while also prioritizing the wellbeing of students and teachers.
Looking Forward
As we cast our gaze towards the future of education, it's important to continually assess the effects of the No Homework Policy. As an increasing number of schools adopt this policy, we'll gain a more comprehensive understanding of its impact on students, teachers, and the educational landscape as a whole. It's also key to explore other strategies that can offer the benefits of homework, such as practice and reinforcement of learning, without leading to undue stress and burnout.