Beyond the Classroom: Understanding the Complexities and Rewards of Teaching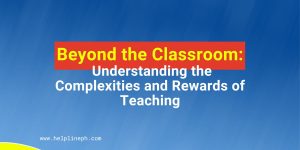 Teachers are known for their profound dedication to their profession, marked by their ability to surmount a diverse range of challenges. Beyond the Classroom, it's challenging to encapsulate the job description of a teacher, yet the joy they derive from their vocation is often palpable. However, some teachers adopt a carefree approach, opting to flout rules in the spirit of enjoying life to the fullest, given its ephemeral nature.
These teachers, often working under stress to complete their duties, risk harming their health. In the unfortunate event of their passing due to illness, a replacement is swiftly appointed. The pertinent question then arises – did the deceased teacher truly enjoy their life? I posit that they likely did, but the extent of enjoyment largely hinges on their time management skills and job prioritization.
Beyond the Classroom, it's worth examining why some teachers shoulder an extraordinary array of tasks beyond their standard teaching duties. Perhaps their superiors designate them as Officers-in-Charge or assign them multiple tasks. Do these extra responsibilities confer any benefits on the teachers? While additional remuneration may not be permissible, there are seven significant advantages that accompany such duties.
Extra responsibilities can earn points that facilitate promotions to positions such as Teacher III or Master Teacher. More points are needed for the latter. Beyond the Classroom, participation in extracurricular activities can aid in personal growth, and, beyond promotion, hard work can earn you a reputation for excellence within your district.
These duties allow you to acquire new skills that you might not have learned in college. Beyond the Classroom, as a result, many of your capabilities are enhanced due to exposure to new tasks. For instance, serving as an Officer-in-Charge can equip you to become a future school principal. While this role can't be utilized without passing the principal's exam, the experience can serve as valuable training. However, it's disheartening when some seek such a position for power or a feeling of superiority.
Beyond the Classroom, you can cultivate close relationships with your students when leading an organization such as a performing arts group or coaching a competition. This allows you to understand your students' individual traits and insights better. As a coordinator or coach, you are responsible for your students, preparing you to lead them effectively.
Additional responsibilities can earn the trust of your principal. Beyond the Classroom, this increased trust often results in more serious consideration or positive responses when seeking favors.
Beyond the Classroom, your perspectives broaden as you plan, devise strategies, and implement procedures. By attending seminars and training sessions, you can continue to grow professionally. These experiences often provide you with knowledge that you didn't have previously.
Beyond the Classroom, higher positions within the District or Division office will take notice of you. If they identify your potential, they might invite you to attend regional or national trainings or seminars.
These seven key benefits can aid you in becoming a superior teacher in your field. Of course, a promotion comes with higher pay, but if your ultimate goal is dominance over your peers, it may not be wise. Beyond the Classroom, there are likely better teachers out there who you might consider inferior, while in reality, they might be superior. Avoid avarice for power; extra responsibilities take time to accumulate.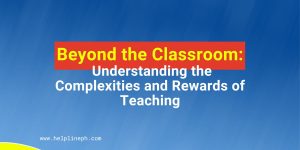 Pursue your tasks with intelligence and diligence to achieve the position you desire. Beyond the Classroom, if your goal is to wield as much power as your principal, you may be setting yourself up for future failure. Instead of striving for dominance, it's more beneficial to remain humble, dedicated, and to continue dreaming. Exhibiting envy or greed for power, believing you're superior to everyone else, is petty and unproductive. Keep focused on reality, not a fantastical future. – Doki | Helpline PH