Graduation Leave for Department of Education (DepEd) Personnel: A Comprehensive Guide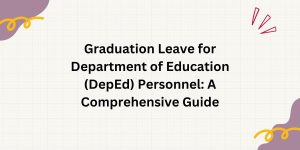 I. Introduction
The Department of Education (DepEd) is a pillar of the Philippine education system, entrusted with shaping the future of millions of Filipino students. An equally vital role that it plays is in the continuous professional development and growth of its own personnel. Integral to this commitment is the provision of a graduation leave policy. It allows DepEd staff members to take time off for their graduation ceremonies, recognizing their pursuit of higher education and lifelong learning. This comprehensive guide delves into the details of the DepEd's graduation leave policy, its benefits, the steps for its availment, and vital points to remember.
II. Deciphering the Graduation Leave Policy
Graduation leave, as granted by DepEd, is a privilege extended to its personnel who are on the brink of completing a degree program, a diploma course, or a certificate course. The policy allows for a maximum of three (3) days off to honor and commemorate their academic accomplishments.
A crucial facet of the graduation leave policy is its non-compensable nature, which means the personnel will not receive pay for the days on leave. However, this does not affect the personnel's access to other benefits. Entitlements such as sick leave and vacation leave remain in place, ensuring that the staff's welfare is not compromised.
III. Unraveling the Benefits of Availment of Graduation Leave
Celebration of Academic Achievement:

Graduation is a significant milestone in a person's life. It symbolizes the culmination of years of dedication, hard work, and perseverance. The graduation leave allows personnel to be physically present at their graduation ceremony, allowing them to bask in the glory of their achievements.

Rest and Recuperation:

Professional life, coupled with the rigors of higher education, can be demanding. The graduation leave offers a well-deserved break from work, providing personnel with an opportunity to rejuvenate before they embark on new professional responsibilities post their academic achievement.

Strengthening Family Bonds:

Graduation is an event often shared with family and friends as it's not just the graduates, but also their loved ones who partake in the joy of the achievement. The graduation leave ensures that the personnel can spend quality time celebrating with their loved ones, strengthening their familial and social bonds.
IV. A Step-by-Step Guide to Availing Graduation Leave
To facilitate a seamless process for its personnel, DepEd has defined a clear pathway to apply for graduation leave:
Timing of Application:

The application for leave should be lodged at least one (1) week prior to the graduation date. This allows sufficient time for the processing of the application.

Required Documentation:

To apply for the leave, personnel must submit the following documents to their respective school head:

A copy of the graduation program

A copy of the official receipt for payment of tuition and other fees

A certification from the school confirming the personnel's status as a bona fide student

Endorsement and Approval:

Upon receiving the application, the school head is responsible for endorsing it to the DepEd division office. Following this, the division office reviews the application and, if all criteria are met, approves the leave.

Leave Without Pay:

After approval, the personnel will be granted the leave without pay. It's important to note that while the days of leave are not compensated, all other benefits remain intact.
V. Key Considerations when Applying for Graduation Leave
While applying for graduation leave, personnel must keep in mind several points to ensure they navigate the process smoothly:
Timely Application:

Be sure to apply at least one (1) week before the graduation date. This ensures sufficient time for processing and avoids last-minute rush or potential delays.

Complete Documentation:

Ensure all required documents are submitted along with the application. Incomplete applications may face delays or potential rejections.

Understanding the Financial Implications:

Be aware that the leave is not compensable. This means personnel will not receive pay for the days they are on leave. However, all other benefits, such as sick leave and vacation leave, remain unaffected.

Leveraging Other Benefits:

Despite the non-compensable nature of the graduation leave, personnel should remember that they are still entitled to all other benefits. It's crucial to know your entitlements and leverage them as necessary.
VI. Conclusion
DepEd's graduation leave policy demonstrates its commitment to fostering a culture of continuous learning and professional development among its personnel. By fully understanding the benefits and the process of applying for graduation leave, DepEd personnel can avail of this provision to celebrate their academic accomplishments. It is a testament to DepEd's recognition of the importance of work-life balance, lifelong learning, and the significance of family and social ties in the overall well-being of its personnel. As you embrace this milestone in your educational journey, may you find the process of availing graduation leave at DepEd a supportive and straightforward experience.