Step-by-Step Guide to the DepEd Resignation Process for Teachers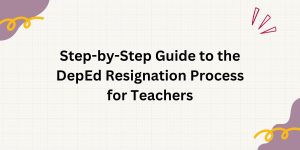 Hey there! If you're a teacher planning to leave your position in the Department of Education (DepEd), you've come to the right place. We're going to walk you through the DepEd Resignation Process, step by step. It might seem a bit daunting, but don't worry, we've got your back! Understanding the DepEd Resignation Process is the key to a smooth transition, and we're here to help you with that.
Making the Decision
First things first, you've got to make the decision to resign. It's a big step, and it could be for a bunch of reasons – maybe you've got a new opportunity lined up, personal reasons, or you're just ready for a change. This decision is the starting point of your journey. It's not just about leaving a job; it's about opening a new chapter in your life.
Writing the Resignation Letter
Once you've made up your mind, you'll need to write a resignation letter to your principal or superintendent. This isn't just a formality; it's a chance to leave on good terms. Make sure to keep it professional and respectful, clearly stating why you're leaving and when your last day will be. And hey, it's nice to say thanks for the experience, too!
Preparing the Necessary Documents
Next up, you've got some paperwork to do. You'll need to prepare your Service Record, Division Clearance, and School Clearance. These documents are super important as they show your service history and confirm you don't have any outstanding obligations to your school or division. It's like tying up loose ends, ensuring that you leave no room for misunderstandings or complications.
For J1 Visa Applicants
If you're planning to teach in the USA under a J1 visa, there are a few extra steps. You'll need an endorsement from your School Division Superintendent (SDS), division and school clearance, a certificate of your last payment, your latest pay slip, and a certificate showing you have no administrative pending case. This might seem like a lot, but remember, each document is a step closer to your dream of teaching abroad.
Handling Existing Loans
Got any existing loans with Private Lending Institutions (PLIs) or Government Financial Institutions (GFIs)? You'll need to prepare a special power of attorney and a notarized undertaking of unpaid loans. This is to make sure your obligations will be met while you're away. It's like making a promise that you'll take care of your responsibilities, even as you embark on a new journey.
Applying for Separation Benefits
Now, here's some good news. If you're resigning, you might be eligible for separation benefits. To apply, you'll need to submit a bunch of documents, including a letter of intent to retire, a declaration of pendency, a filled-up GSIS Application form, an updated Service Record, Division Clearance, School District Clearance, SALN as if the last day of service, the latest appointment, the latest pay slip, and a Certificate of Last Payment. It's a bit of a process, but the potential benefits make it worth the effort.
Wrapping Up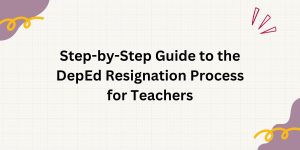 Resigning from a teaching position in DepEd is a significant decision that requires careful planning and preparation. But remember, every end is a new beginning. As you close this chapter of your career in DepEd, you open a new one filled with possibilities. So, approach the DepEd Resignation Process with confidence, armed with the knowledge you've gained from this guide. Understanding the DepEd Resignation Process is the key to a smooth transition, and we're here to help you with that.