Teachers Unite: Demanding Fair Wages, Improved Conditions, and Stronger Union Rights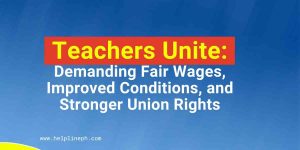 Yesterday, over 500 educators and school staff united in Labor Day demonstrations under the banner "Teachers Unite," calling for better pay, improved benefits, educational reform, and respect for union rights. Vladimer Quetua, chairman of the Alliance of Concerned Teachers (ACT), spoke about the unbearable working conditions teachers face, including overcrowded and overheated classrooms, additional non-teaching responsibilities, unlivable wages, and the expectation to cover classroom expenses.
Quetua also emphasized the need for teachers to unite in resisting efforts to undermine unions and violate union rights, pointing to issues such as management stalling collective negotiation agreements and human rights violations against leaders and members. The protesters organized a "Protesta de Mayo" event with a Flores de Mayo theme, featuring teachers dressed as various queens symbolizing the struggles of underpaid, overworked, undersupported, and unfairly targeted educators in the country.
Before joining other labor and activist groups in Mendiola, Manila, ACT-affiliated teachers also took part in Zumba dance protests at various locations. Protests took place simultaneously in other cities, urging the government to implement much-needed salary increases as part of the Teachers Unite movement. Quetua emphasized the importance of 2023 for teachers, as the final benefits under the Salary Standardization Law V are set to expire. He insisted that they will not allow Congress to neglect passing a new law for salary increases, as current wages are far below the living wage.
In a related development, a member of the House committee on higher education has proposed granting the Commission on Higher Education (CHED) access to "unprogrammed funds" in the 2023 General Appropriation Act to prevent tuition hikes in private colleges and universities. Bohol Rep. Kristine Alexie Tutor suggested that the Department of Budget and Management allow CHED to use these funds to supplement tertiary education subsidies for students attending private colleges and universities.