NO COLLECTION: Keep graduation, moving-up rites simple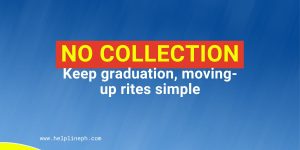 As the academic year of 2022-2023 draws to a close, the Department of Education (DepEd) Region 6 has taken the opportunity to remind everyone about the guidelines for the End-of-School-Year Rites (EOSY), with a particular emphasis on the "no collection" policy.
DepEd Order 009, Series of 2023, stipulates that the formal conclusion of classes will be on July 7, 2023. Schools have the autonomy to choose the date for this year's rites, provided it's not earlier than July 10 and not later than July 14, 2023. The order also provides guidance for private schools that began their academic year earlier and both public and private schools that had to extend their academic year due to unforeseen circumstances.
The Department's order and Regional Memorandum 328, which outlines the conduct of EOSY, advocate for ceremonies that are "simple but meaningful," as stated by Hernani Escullar Jr., the information officer of DepEd-6. This includes conducting moving-up and graduation ceremonies within the school premises and discouraging the wearing of extravagant attire.
Escullar emphasized the importance of conducting the ceremonies in a way that commemorates the significant milestones in the learners' lives. He also clarified the "no collection policy," stating that parents or guardians are not required to spend anything for the moving-up and graduation ceremonies. Any expenses related to the activity will be covered by the school's maintenance and other operating expenses.
DepEd-6, under the leadership of regional director Dr. Ramir B. Uytico, has authorized schools and parents-teachers associations to hold meetings or forums to plan the rites. The speech of the invited keynote speaker(s) should also align with the theme for this EOSY: "Gradwyt ng K to 12: Hinubog ng Matatag ba Edukasyon (K to 12 Graduates: Molded through a Resilient Educational Foundation)."
The DepEd guidelines for the conduct of EOSY for 2022-2023 include several key points, such as the non-mandatory nature of physical distancing and wearing of facemasks, the encouragement of full face-to-face moving-up and graduation ceremonies, and the prohibition of collection of any kind of contributions or graduation/moving-up fee.
The guidelines also emphasize that graduation and moving-up ceremonies should be simple yet meaningful, conducted without excessive spending, extravagant attire, or extraordinary venue. Non-academic projects should not be imposed as requirements for graduation or completion, and the ceremonies should not be used as a political forum.
In Region 6, the estimated number of graduating Grade 6 and Grade 12 learners as of June 15, 2023, reached 292,833. This includes learners from SUCs/LUCs, private schools, and public schools. The region is also expecting an estimated 314,495 learners to have their moving-up ceremony.
This year marks the first time the region will conduct full face-to-face moving-up and graduation ceremonies since the outbreak of the coronavirus pandemic in 2020.