Increase in Teachers' Salaries: Congress Urged to Take Action on 21 Pending Bills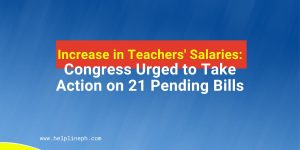 The Alliance of Concerned Teachers National Capital Region Union is advocating for a swift increase in teachers' salaries, a topic of growing importance in the face of rising living costs. The union's president, Ruby Bernardo, has emphasized the urgency of this issue, stating that the current salaries of public school teachers are significantly lower than the estimated monthly living wage.
The union is calling for action on 21 pending bills that aim to increase teachers' salaries. "We hope to communicate to our lawmakers the urgency of raising teachers' salaries given the continually high inflation and more hikes in electricity, water, and transportation costs in the offing," Bernardo said. This call for an increase in teachers' salaries is not only a matter of fairness but also a crucial step towards ensuring the quality of education in the country.
Public school teachers, particularly those in Teacher I positions, are currently receiving a monthly salary of P27,000. This amount is far from the estimated monthly living wage of P34,830, as calculated by the IBON Foundation. Bernardo further revealed that about 52 percent of the public school teachers population, or almost 500,000, occupy Teacher 1 positions, while 40 percent are in the Teacher 2 and 3 levels, receiving P29,000 to P33,000.
The significant discrepancy between incomes and expenses burdens our teachers and affects their job performance and overall well-being. "The unresponsiveness of the current administration to the teachers' demand for a pay hike while our workload continues to mount is affecting our morale and our capacity to deliver quality education," Bernardo said.
The union's call for an increase in teachers' salaries is a plea for the recognition of the value and importance of teachers in our society. It is a call for the government to invest in education and in the people who are shaping the minds of the future generation. The time for action is now.