Wow! New House Bill: Two Thousand Pesos (Php 2,000.00) Monthly Teaching Supplies Allowance for Public School Teachers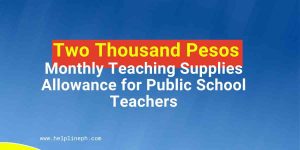 The monthly teaching supplies allowance of two thousand pesos is a great help for all teachers in public because all teachers are using their own money to purchase things needed in school. In many years past, teachers were always spending their own money on the needs of their classroom.
Many teachers are suffocated by the expenses they've spent on their classroom, and there's no refund. This is also one of the reasons why teachers are still in debt because they are taking out loans to have money to purchase the things needed in their classroom. Therefore, teachers need a monthly teaching supplies allowance.
Paolo Duterte and Eric Yap filed a bill to provide a monthly teaching supplies allowance for public school teachers. Teaching is a profession that serves as the foundation of all other professions.
Teachers serve as heroes in modern nations—tirelessly imparting equal education to the youth and grooming them to become valuable members of society. Despite this great contribution of teachers, their salaries, particularly public school teachers, are not equal to their sacrifice, especially during the COVID-19 pandemic.
Adding to these difficulties are the costs of teaching materials that they often have to pay out of their personal pockets. The goal of this bill is to make it official that teachers get a monthly allowance of 2,000 pesos for teaching materials during the school year. This will make it easier for teachers to pay their bills.
This proposed measure also impacts the rising prices of basic goods, including teaching materials and others. Approving Funds for Monthly Teaching Supplies Allowances for Public School Teachers Therefore. To know more about the House Bill, introduced by Representatives Eric G. Yap and Paolo Z. Duterte, you can refer to House Bill No. 3543.
Hopefully, this House Bill No. 3543 will be realized because although this monthly teaching supplies allowance for teachers is not enough, it is very useful, especially at this time when teachers are very exhausted not only from their work but financially because the increase in salary is invisible.
So teaching becomes quality if the teachers have ample support for their teaching needs, like this monthly teaching supplies allowance and salary increase. Teachers are not demanding an increase because their salaries are not enough for their daily needs.
All the prices are increasing, but the teachers' salaries are still constant and there is no development. The teachers haven't seen the progress of their salaries for so many years. Other teachers were already dead. Although there's an increase, it can't be felt because of the small amount and staggered basis.
The House Bill introduced by representatives Eric Yap and Paolo Duterte about the monthly teaching supplies allowance is a great help to all the teachers. Teachers don't get paid enough for the work they do, so many skilled teachers move to other countries to keep their families from going hungry because the government here pays them so little. 
Quality education should be seen through teachers' teaching concentration. Teachers could not concentrate on their teaching if their minds were bothered by the financial crisis they were facing. If the government is hesitant to give the increase, the teachers are inefficient and could not give 100% of their teaching. – Doki | Helpline PH