2022 DepEd SRI Updates
President Ferdinand R. Marcos Jr. has issued administrative orders (AOs) granting a service recognition incentive (SRI) for government employees at a uniform rate not exceeding PHP20,000.
As for Department of Education, the agency released an Advisory on the Grant of FY 2022 Service Recognition Incentive(SRI) as approved by Vice President/DepEd Secretary Sara Duterte.
The DepEd will provide a rate of Fifteen Thousand Pesos (Php 15,000.00) SRI per eligible employee.
2022 SRI Update as of Dec 20, 9am
2022 SRI is a one time payment which must be covered by 2 sub-AROs to all regions.
The 1st sub-ARO will be released today, Php9,000 for every qualified employee and the final sub-ARO (for the remaining Php 6,000) will be after DepEd Central Office's (CO) receipt of the SARO from the DBM (as a response to the request for modification from MOOE to PS).
Cash back up will be prepared by the CO ( thru NTA) for those ROs/SDOs with LBP accounts while for non-LBP, NCA will be released by their DBM-RO counterpart upon submission of their request for the purpose. Thank you.
Source: Undersecretary Annalyn Sevilla
2022 SRI Update as of Dec 20, 7pm
DepEd released Notice of Transfer of Allocation for some regional offices.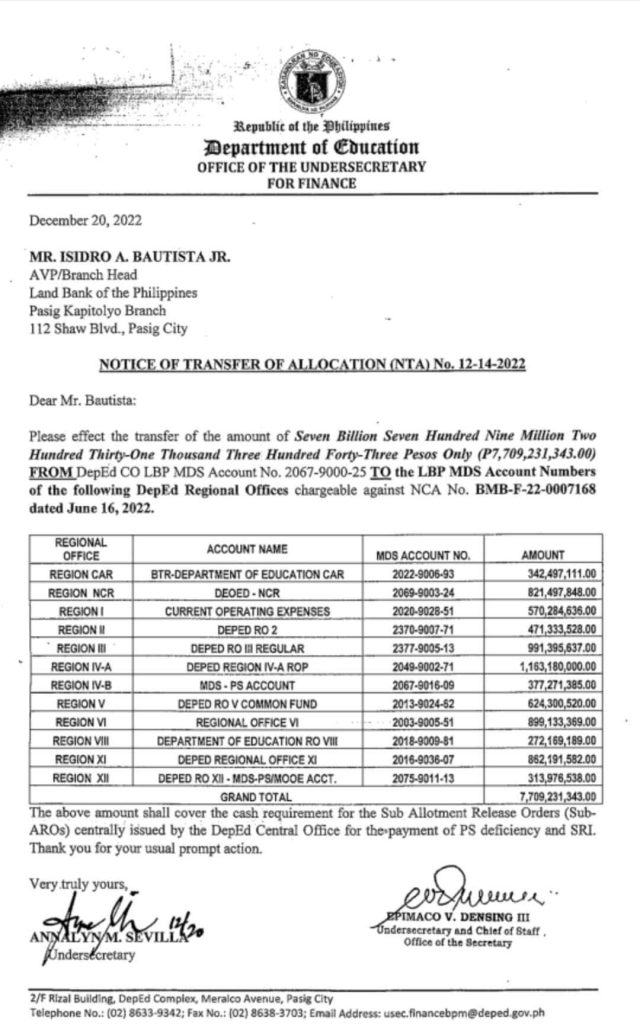 Source: Qcpsta Teachers
2022 SRI Update as of Dec 22, 1:30 pm
SRI IS REAL
DepEd starts releasing SRI to teachers.
The Department of Education (DepEd) advised the immediate release of P9,000 SRI. The remaining P6,000 will be released once available.
"Kung hindi ngayon, sigurado bukas." said our source (RO1).